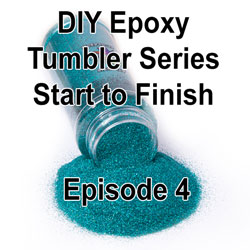 This tutorial walks you through the full process of how to epoxy a tumbler start to finish. After you glitter your tumbler, the next step is epoxy. We show you how to mix Pro Marine Epoxy then apply a flood coat of epoxy. After the tumbler cures of eight hours, you can then sand the tumbler with fine sand paper, apply your vinyl decal, and add the final coat of epoxy. We used white Styletech Glitter to create this decal from 143vinyl.com
In this video, Alex and Kate demonstrate how to do a flood coat of epoxy and make sure that it is an even coat. Then they recommend the process of sanding the tumbler form top to bottom to make sure to focus on the edges to make them as smooth as possible. After the sanding process, they demonstrate how to wipe down the tumbler with alcohol to clean the tumbler before applying your decal. Once the decal is applied Alex and Kate demonstrate how to add the final coat of epoxy and create an even layer without any issues.
These videos were filmed before the release of StarCraft Glitter. We have tried it, and we highly recommend StarCraft Glitter as the best glitter for epoxy tumblers. Click here to shop StarCraft Glitter.