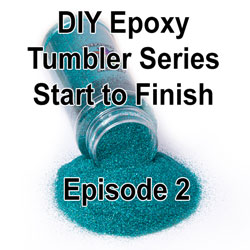 Though there are many ways to glitter a tumbler, the best way to evenly glitter a tumbler is to use the epoxy method. To glitter a tumbler with the epoxy method, mix a small amount of epoxy, spread epoxy evenly over the tumbler, and pour glitter over the tumbler while it's still wet.
In this video, Alex and Kate demonstrate the best way to mix epoxy to help prevent bubbles and the best way to apply epoxy to tumblers. They also discuss making sure that your tumbler is straight for applying epoxy and glitter evenly. Alex and Kate also discuss the best ways to check for unevenness in the epoxy on your tumbler and the easiest ways to fix any unevenness.
These videos were filmed before the release of StarCraft Glitter. We have tried it, and we highly recommend StarCraft Glitter as the best glitter for epoxy tumblers. Click here to shop StarCraft Glitter.