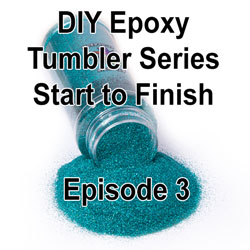 How to Ombre Fine and Chunky Glitter Tumbler is the third episode of the DIY Epoxy Tumbler Series Start to Finish. Watch this episode to learn how to create a glitter ombre with fine glitter and a chunky mix glitter. The unique method that we teach you in this video gives you more control than the traditional chunky ombre blending technique.
In this video, Alex and Kate demonstrate the best way to create an ombre effect with the chunky glitter. They discuss the challenges that come along with using a chunky glitter and the best hacks to get even coverage with the chunky glitter. Alex and Kate also recommend the best way to check if your tumbler is dry without messing up the progress that you have made. They also recommend adding a spray sealer before you add your final layer of epoxy to help get the best results while using chunky glitter.
These videos were filmed before the release of StarCraft Glitter. We have tried it, and we highly recommend StarCraft Glitter as the best glitter for epoxy tumblers. Click here to shop StarCraft Glitter.