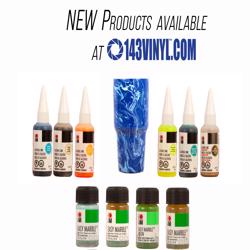 Date: September 30, 2020
Marabu Alcohol Inks are used to add beautiful colors to surfaces such as: glass, metal, plastic, leather, vinyl, and more! The Glitter Marabu Alcohol Inks add mesmerizing shimmer on all your alcohol ink projects. Marabu Alcohol Inks come in a 20ml size bottle. They are blendable, permanent, and fast-drying. Marabu Alcohol Inks feature an extender that needs to be opened with a push pin/thumbtack in order for the ink to come out. Marabu Alcohol Inks range in price from $3.99 to $5.99. They are perfect to decorate on any of 143vinyl's Acrylic Blanks!
Click Here To Shop Alcohol Ink
Marabu Easy Marble Paint creates marbling color effects on many surfaces and can be mixed to create mesmerizing color looks. Marabu's paint can be used on wood, glass, paper mache, plastic, metal, and more. To begin the Marabu Easy Marble Paint process, drip the marble paint colors into a tub of lukewarm water and gently swirl around marble paints for a desired marble look. Once the paint mixture in the water has that desired look, dip the item of your choice to create a marbled masterpiece! Whichever surface you choose to customize using Marble Paints it is recommended that you seal it with something such as Modge Podge, epoxy, or other sealers. Marabu Easy Marble Paint dries in 15 minutes allowing you to touch it and move your craft where it can cure for 24 hours. Marabu Easy Marble Paints are solvent-base and come in a 15mL bottle that ranges in price between $3.29 and $4.29. If you are new to Marabu Easy Marble Paints, they are available 3 piece sets.
Click Here To Shop Marble Paint