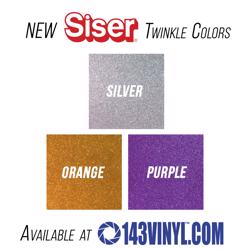 Date: August 24, 2020
The three new Siser Twinkle colors are available in the following: purple, orange, and silver. Siser's heat transfer vinyl (HTV) Twinkle can be applied to cotton, polyester, and poly/cotton blend materials using an Easy Press or heat press machine. Siser Twinkle heat transfer vinyl (HTV) is guaranteed to shine on fabric materials such as 143VINYL's fabulous Tea Towel. All Siser Twinkle heat transfer vinyl is available in 12" x 20" sheets.
Siser Twinkle HTV is also available in the following colors: fuchsia, gold, navy blue, red, and royal blue. These all have a noticeable change in color shift and will not match the original color of twinkle. This is just a cosmetic change and will not affect the heat press settings. Now Siser Twinkle's adhesive side is light grey for all colors making it simple to identify the new version of colors. Siser Twinkle heat transfer vinyl (HTV) is smooth to the touch feel when pressed onto fabric materials. Siser Twinkle HTV has a smooth silicone-like surface finish featuring embedded glitter flakes giving extra twinkle.