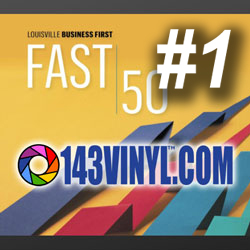 Please Note: Effective 11/24/2020 Troy Young resigned from his position as CEO and is no longer with the company.
October 6, 2020 - Louisville, Kentucky
Business First has named 143VINYL.COM as the fastest growing company in the Greater Louisville area. With a 608.7% growth rate for calendar years 2017 through 2019, 143VINYL™ took away the top spot in the Business First Fast 50 for 2020. Being ranked in the $20-50M category, it's unusual to see such growth in a traditional business. It's easier to grow four or five times over when you are a small business because of the dollar amount. Once you become a $10 million or more business the dollar amounts are large and the percentage of growth tends to shrink a great deal. Chief Executive Officer Troy Young says he believes their growth is primarily because of their customer relationship. He believes people have changed how they shop over the past 20 years or so because of the Internet. "However, people have not changed why they buy who they buy from. At the end of the day we're all still humans with emotions and we crave the satisfaction of great customer service."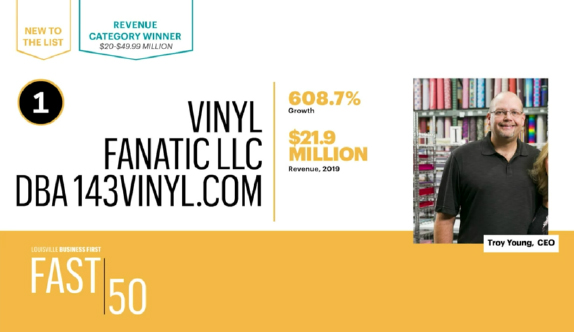 Young says that hard work and a lot of luck has helped their business along the way. He went on to say, "We have great vendors such as StarCraft, Siser, Grimco, Cricut, Silhouette America, Tape Technologies and more who provide great quality products." He also gives a lot of credit to their employees and marketing team which includes several social media personalities. He went on to say "At the end of the day none of us would have jobs if not for having the most amazing loyal customers on the planet. To know they have trusted us a million times is hard to comprehend sometimes." Coincidentally, 143VINYL™ shipped its one-millionth order on the same day as being named the fastest growing company and on October 10, 2020 they celebrate their fourth birthday since the launch of their website.
Vinyl Fanatic LLC d/b/a 143VINYL.COM was founded in 2016 and is a privately held company located in Louisville, Kentucky with approximately 120 employees. Serving crafters and small businesses, they supply vinyl, heat transfer vinyl, die-cutting machines, heat presses, and sign products used to create custom crafts, apparel, signage, and more.