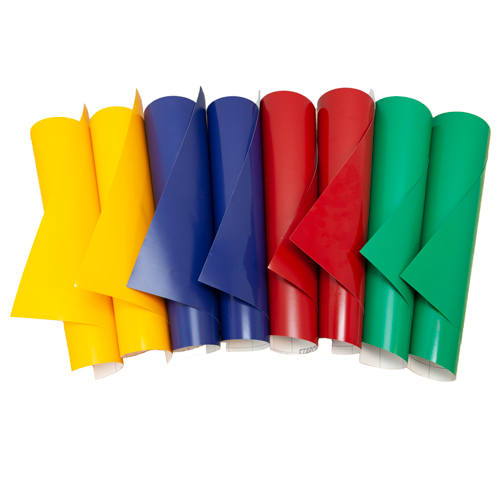 February 12, 2020
143VINYL has added StarCraft HD to their product line! The StarCraft HD (High Durability) permanent adhesive vinyl is perfect crafting, long term graphics, decals, lettering, outdoor signs, and most applications requiring durability and longevity. StarCraft High Durability (HD) was in development for 2 ½ years and is 100% made in the USA by a U.S. company.
StarCraft HD is available in 4 sizes: 12 inch x 12 inch sheets, 12 inch x 24 inch sheets, 12 inch x 5 feet rolls, and 12 inch x 10 yard rolls. StarCraft HD is available in 41 colors and comes in a glossy and matte finish for all colors. Some of the colors that are now available in glossy and matte in the StarCraft HD are cream, burgundy, lilac, metallic rose gold, plum, and teal.
What makes this new high durability adhesive vinyl special is that it's held more tightly to the carrier sheet for more intricate cuts so that you can cut more complex designs with your vinyl. StarCraft HD Glossy and Matte are both polymeric films that allow for more flexibility. Like most vinyl, this high durability vinyl is pressure sensitive and should be allowed to cure for 48-72 hours on average for best results.
The StarCraft HD vinyl is 3 millimeters thick and has a calendered film type. The release liner on this permanent high durability vinyl is silicone coated paper with a stronger hold for a better cutting and weeding experience. StarCraft HD vinyl has a clear acrylic pressure-sensitive permanent adhesive. This new high durability vinyl is print compatible with latex solvent, and eco-solvent printers. The grid on the back of sheets measures 1-inch squares.
This high durability permanent adhesive vinyl is rated for 5-6 years of durability. StarCraft HD will stick to almost any solid surface, like glass. StarCraft HD has a shelf life of 2 years under the ideal storage conditions of 70 degrees Fahrenheit and 50% humidity.