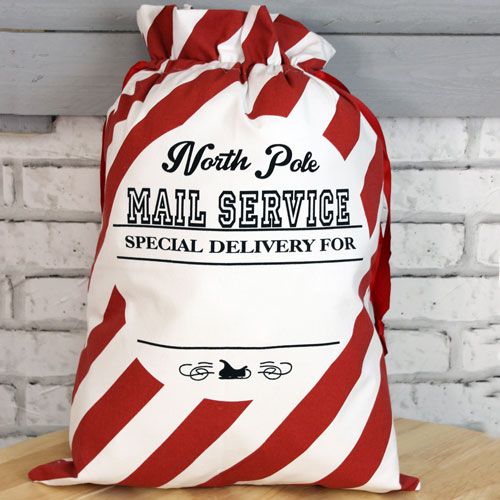 Date: December 10, 2018
143VINYL.com is excited to add their first crafting blank item to their product line! Santa Sacks are here just in time for Christmas. Santa Sacks are approximately 18 inch x 26 inch canvas bags with a drawstring tie at the top to transport presents. Santa Sacks make a great personalized item to surprise the children by stuffing them with gifts. Each sack is pre-printed with one of three designs and you can fill in the child's name using Heat Transfer Vinyl (HTV). The first design is green and white stripes. The stripes are vertical and the bag has a red drawstring tie. The second design is called red stripes. Red stripes design has diagonal red stripes going across the beige canvas bag. There is a circular opening in the center that says "North Pole Mail Service Special Delivery For" and a place to add the recipient's name.The third design is called Special Delivery. The bag is beige colored canvas. In a red script font it says "Special Delivery For" at the top and underneath there is a sketch of Santa with an open ribbon for the recipient's name. The bottom of the bag says "If undelivered please return to the North Pole".
All three designs are very popular with children and those traveling with their gifts this holiday season. Click Here to shop Santa Sacks.