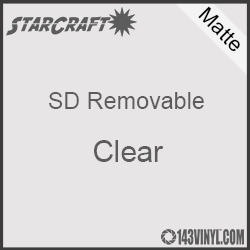 StarCraft SD (Standard Durability) removable adhesive vinyl is what you're going to want for temporary vinyl on all your crafting projects. StarCraft SD is great for indoor wall projects when you want the option of removing your design at a later date. For example you can use it to apply a cute design for a nursery wall but in a few years when you transition the room to more of a toddler style you can easily remove your design without damage to the wall. StarCraft SD can be used outdoors for your short term projects as well. It makes changing the date for yearly event signs a breeze! You can use SD for all your decal, lettering and crafting needs the same way you use it's permanent companion HD. StarCraft SD currently comes in 49 matte finish colors. Don't be fooled by the temporary aspect; the indoor rating is 3-4 years with an outdoor rating of 1 year or more depending on the exposure to severe elements. StarCraft SD will easily stick to almost any solid surface such as glass, smooth wood, plastic and metal.
Starcraft SD is manufactured 100% in the U.S.A and uses an eco friendly adhesive. No matter the size of the project, StarCraft SD has you covered as it comes in several sizes including 12"x12", 12"x24", 12"x5', 12"x10yd, and 24"x10yd.
Applications: Indoor and outdoor use for decals on solid surfaces.
Thickness: 3 mil
Durability: 3-4 years indoors / 1 Year outdoors
Film Type: Calendered
Release Liner: Silicone coated paper.
Adhesive: Clear acrylic pressure sensitive removable adhesive
Shelf Life: 2 Years under listed storage conditions.
Storage: Ideal storage conditions are 70° F / 50% Humidity. Long term storage outside of those conditions may reduce shelf life.