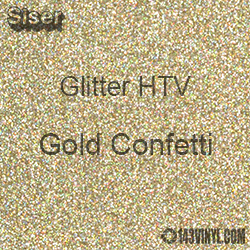 Gold Confetti - 12" x 12" Sheet
Bring Your Designs to Life by Adding Some Sparkle! These glittery colors are vibrant and eye-catching! Why have a plain design when you can make it stand out with some Glitter HTV? Siser Glitter HTV is perfect for making all your t-shirt projects pop!
Measurements: 12 inches wide x 11.80 (12) inches long
Material: PU Composition
Thickness: 12.8 Mils
Carrier: Pressure-sensitive backing
Layering: Can be layered on top of other materials but NOT recommended to be layered on top of itself
Applies to:

100% cotton
100% polyester
Poly/cotton blend
Leather
Sublimated polyester
Spandex/Lycra® (Glitter HTV will adhere to the fabric but it may crack when stretched)

Certifications: CPSIA
Can be embroidered
Heat Application:
Time: 10-15 Seconds
Temperature: 320° F / 160° C
Pressure: Firm
Peel: Warm
Care instructions:
Wait 24 hours before the first wash. Do not dry clean. Machine wash warm with mild detergent. Dry at normal setting. No chlorine bleach.
Install the Siser app from the APP STORE or on GOOGLE PLAY.
Related products