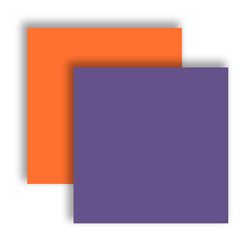 Date: September 4, 2018
Siser North America has released two new EasyWeed Heat Transfer Vinyl (HTV) colors Orange Soda and Wicked Purple. Orange Soda is a vivid shade of orange, which would create festive pumpkin and leaf images. Wicked Purple is brighter than EasyWeed Purple, which would be perfect for a witch hat for Halloween. Wicked Purple is inspired by the color Ultra Violet, which earned the title 2018 Pantone Color of the Year.
651Vinyl.com is excited to add these two vibrant colors to our HTV selection in time for Fall and Halloween crafts. HTV makes great Fall and Halloween crafts because it can be applied to fabrics for costumes, garden flags, t-shirts, and more. At the time of this publication, Orange Soda and Wicked Purple HTV are currently available in: 12 x 12 inch sheets, 12 x 24 inch sheets, 12 inch x 5 foot rolls, 12 inch x 5 yard rolls, and 15 inch x 5 yard rolls from 651vinyl.com.
651Vinyl.com is built on the principle of helping crafters obtain quality products, providing excellent customer service, fast shipping, and competitive prices. 651 vinyl.com is an Authorized Distributor of Siser North America products. As the world's leading manufacturer of heat applied materials, Siser® North America is dedicated to providing customers with genuine, manufacturer-warranted first quality materials.To purchase Orange Soda and Wicked Purple EasyWeed HTV, or to see our full line of HTV products, visit https://www.651vinyl.com/siser-easyweed-htv/.