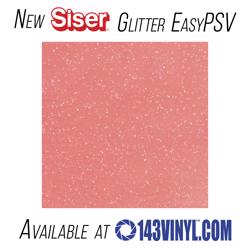 Date: September 15, 2020
Siser EasyPSV is an adhesive vinyl that is best adhered to glass/mirror, wood, metal, and ceramic. Add EasyPSV glitter to most any hard surface for that extra pizazz! Siser EasyPSV Glitter Vinyl has a smooth glitter texture that can be layered for detailed designs. EasyPSV glitter can easily be applied to some curved surfaces such as a wine glass. Siser EasyPSV Glitter Vinyl goes perfectly with our acrylic blanks. Add a tassel to your decorated blank for even more flair.
Siser EasyPSV Glitter Vinyl is available in 12" x 12" or 12" x 24" sheets. More fabulous colors of EasyPSV glitter includes: Azurite, Brick Red, Castle Rock, Diamond, Emerald Envy, Flame Red, Glimmering Gold, Hyacinth, Lapis Blue, Marine Blue, Midnight Violet, Night Sky, Pink Flirt, Rose Gold, and Sparkling Aqua.
Click Here To Shop Glitter Coral PSV