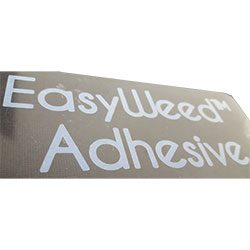 Siser EasyWeed - Adhesive - 12" x 5 Yard Roll
Siser EasyWeed™ Adhesive is typically used in conjunction with Screen Printing Foils and fabric appliques. The cloudy appearance turns clear when applied.
Just like the other materials in the EasyWeed™ Family, this heat transfer adhesive has a carrier side and a material side. The carrier side is noticeably smoother and shinier than the material side. Cut EasyWeed adhesive on the same settings as EasyWeed Heat Transfer Vinyl. Press for five (5) seconds at 305°F with medium pressure, hot peel the carrier sheet. Most materials will then need to be pressed for 15 seconds after the initial press to apply the adhesive. If applying foil and some other materials, be sure to let the adhesive cool completely before removing the excess foil.
Related products