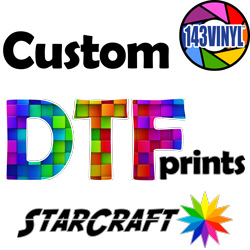 Current TAT is 7-8 days
TAT updated 12-07-23 11:08pm EST
We always strive for a 24 hour turn around time, but it fluctuates due to demand. Please note that Turn Around Time is for print processing time and does not include shipping timeframe. Due to the complexity of Direct to Film Transfers, we will no longer be able to combine orders with Direct to Film Transfers. If other products (Vinyl, HTV, etc) are on the same order with DTF, all other items will not ship until the DTF print is ready. We apologize for any inconvenience, this is to ensure the smoothest process to ensure all orders are printed effectively and accurately. Thanks for your orders!
---
Application Instructions
Applies in 20 seconds at 329 degrees. No need for a heat resistant sheet. Peel cold.
Click here to download the the full instructions.
---
Full Color DTF transfers for heat press application. This is where you upload your image or design your project in our Layout Designer.
Select the button below to get started!
Click the button below to get started with our Free Library
Full color transfer, no limit to your imagination!
Upload your own custom designs.

You must upload your designs with a transparent background, either as an SVG or PNG file.
No need to mirror.
Once uploaded, please make sure your image fits inside the selected canvas (Recommended using the Layout Designer by clicking "My Projects")
Check out Layout Designer Tips for tutorials on removing backgrounds, excess space and more

Durable, will outlast the garment. 50-100 wash cycles.
Decorate anything. Cotton, polyester, blends, etc.*
Fast! Applies in 20 seconds at 329 degrees with no heat resistant sheet and peel cold.
We print 7 days a week.
We are unable to print images that are subject to copyright. Please see our

copyright stance

for futher information.
At this time, Local orders for DTF Transfers will remain in queue by time and date submitted and cannot be expedited to be printed.
Pricing:
No minimums! You can order just one 4"x4" square.
All transfers are licensed for commercial use.
Flat rate shipping is $9.95, but all orders over $75 ship for FREE!
Pocket - 4" x 4" square - $2.00
Youth 6" x 6" sheet - $3.25
Small / Medium 8" x 8" - $3.75
Large 10" x 10" - $4.50
Extra Large 12" x 12" - $5.25
Super Large 12" x 17" - $6.75
15 Inch Square S 15" x 15" - $6.75
2 Foot Gang Sheet 22" x 2ft - $15.00
5 Foot Gang Sheet 22" x 5ft - $32.00
Tutorials:
---