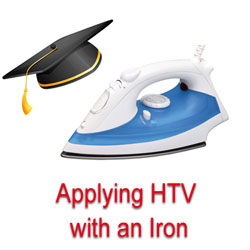 Each product has slightly different specifications of how to apply including material type, temperature and pressure. Obviously the better quality iron, the better results you will receive, but generally any household iron should work. To apply HTV with an iron you should follow those same guidelines but you should also:
Use a Teflon sheet, thin pillow case or parchment paper (not wax paper!) on top of the design
Set the iron on high/cotton
Turn off steam
Press on a solid surface such as a table or counter Do not "iron" it by moving the iron around. Press firmly for the correct time/temperature then move the iron and press the next section, if the design is large. If you move the iron around like you are ironing the garment, you are heating and cooling the garment and HTV rather than pressing it onto the garment.
You should iron the garment first to warm the material and remove any moisture that may exist.
Some people have suggested placing a sheet of aluminum foil inside the garment to reflect heat, although I'm not sure if that's really effective or not, it certainly should not hurt anything.